ericg OSM побеждает! /me learning some Russian liners before the vodka party w/ @MAPS_ME. What else should I know how to say @mourner @mapnik
@guanchzhou рано, на мой взгляд. Они ещё в начале пути, MRG будет якорем, пусть и с реактивным двигателем сбоку.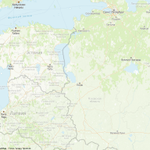 Только что (спасибо petrovnn за напоминание) добавил тайлы «Спутника» в BigMap 2: bigmap.osmz.ru pic.twitter.com/yP2ElhU58B
Сегодня на нашем радио мапперы из Пскова — petrovnn и, скорее всего, Muz1kand. Участвовавшие в единственной осенней картовстрече 2014.
@dv_kiselev я очень плох в придумывании денежных проектов :)
@dmitryafonin кажется, космический аппарат забыли снабдить обходными листами, и даже снимки не по чему привязывать.